We spent days and days in the studio working on our new eight song cd "Two Years Later." It features two classic songs from our demo, plus some great brand new tunes. All together it's just over 22 minutes of rockin music. It's available at all our shows and through mail order.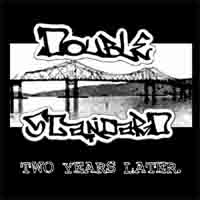 1. Said & Done
2. Enough is Enough
3. Clair
4. Our Turn
5. I Hate Monday
6. Empty
7. A Way Out
8. Radio


To mail order the cd all you have to do is send your address, and well concealed cash or a check (made out to Adam Hepburn) for $6 to:


Double Standard
11 North Eckar Street
Irvington, NY 10533


We also have screen printed patches available, throw in an extra buck if you want one. If you own a label, a production company, a zine, a store, a venue, a recording studio, or anything like that then we'd appreciate any kind of help we could get with distribution, booking, reviews, recording, promotion, or anything else. As always, send questions and comments to thedscrew@yahoo.com.